It is important that teach your children to show their appreciation and love to pastor by unique gifts at Christmas, although gifts for pastor appreciation are generally expected from adults in the congregation. Kids might not have a lot of money to spend, but they do have genuine gratitude and love to show and a variety of mediums from which to choose. Teach your kids to made simple but cute homemade Christmas gifts for pastor and I am sure your pastor will love them very much.
Personalized Pastor Appreciation Gift Plaques
Footprint/ Handprint Christmas Cards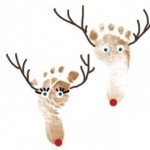 If your kid is too young to make the pastor Christmas gift, you can help him/her to make the personalized handprint or footprint cards. My daughter is 4-year-old, and handprint/footprint card is interesting homemade gift for 4 years old girl or boy.
Cut a piece of cardstock in half and then fold in half. Rub the baby's hand or foot in ink or paint and press onto the cardstock, you just wipe baby's foot or hand with the inkless wipe & then gently press the foot onto the coated paper. Within seconds a black footprint develops with an amazing amount of detail - every wrinkle & fold can often be seen. The wipe has no visible ink on it so no messy black marks are left on the hand or foot - amazing!
Christmas Stocking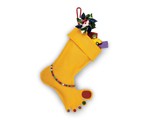 Christmas stockings are a traditional holiday decoration used hold small presents and decorate fireplace mantles, I am sure kids' homemade Christmas stocking will highlight pastor's family. And a stocking craft is easy enough to share with your kids and it requires just a few basic and inexpensive materials to complete.
Snowmen Craft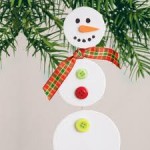 Making a dangling snowman to decorate the Christmas tree of pastor's family will be wonderful. It doesn't take a single flake to build this frosty character - your kids can round him up with white foam, buttons, and ribbon.
Using the round objects as patterns, cut out 2 white foam circles in each size.
Place one set of the circles on a flat surface, spacing them 1/4 inch apart. With glue dots, glue a 12-inch piece of monofilament across the circles as shown, then firmly press the matching circles on top.
Use more glue dots to attach buttons and an orange craft foam nose. With a permanent marker, draw on eyes and a mouth.
Finally, tie a ribbon scarf around the monofilament at the neck, and then knot the line above the head to create a loop for hanging.
Christmas Message in Bottle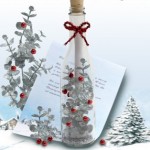 Write a Christmas appreciation note, letter or poem for your pastor and put it into the bottle as the personalized message in a bottle, and it is also unique ornaments to decorate pastor's Christmas tree.