Gifts and parties are fun and exciting and can be sentimental too, but there's nothing like the written word when it comes to expressing your heartfelt thanks and wishing your pastor a happy retirement. Perhaps you have some Shakespeare of your own buried deep inside and want to try your hand at composing something original. Or maybe you'd rather trust your pen to the pros and borrow the words of another. Either way, the sentiment won't be missed.
Personalized Retirement Gift Plaques
Pastor Retirement Scriptures

Pastor Retirement Poems
Pastor Retirement Notes/Cards (Writing Tips)
Pastor Retirement Scriptures
There is a lot of verse in the bible that refers to the leadership role of the pastor as well as the idea of fulfilling one's service to God. The examples below would be perfect choices for readings at a pastor's final service. You could also pen one in a card to go with a gift. This scripture is taken from Open Bible.
For I know the plans I have for you, declares the Lord, plans for welfare and not for evil, to give you a future and a hope.
But I do not account my life of any value nor as precious to myself, if only I may finish my course and the ministry that I received from the Lord Jesus, to testify to the gospel of the grace of God.
And when his time of service was ended, he went to his home.
Let your work be shown to your servants, and your glorious power to their children. Let the favor of the Lord our God be upon us, and establish the work of our hands upon us; yes, establish the work of our hands!
The righteous flourish like the palm tree and grow like a cedar in Lebanon. They are planted in the house of the Lord; they flourish in the courts of our God. They still bear fruit in old age; they are ever full of sap and green,
Pastor Retirement Poems
The lyricism and beauty of poetry makes it an ideal choice when used to honor retirement. Many poems with a religious focus have been written to honor pastors. My-pastor.com has a selection that would work very well for pastor retirement. The example below is a piece by Judy Crowe:
For all the times you walked with me
And gently held my hand,
The times you stopped to answer why,
To help me learn and understand.
Each time I fall or stumble, you
Reach out to me and lift me up to stand.
You are there in good times,
Even though I forget to thank you.
You are there in bad times,
To pick me up and see me through.
Thank you Pastor for being there
To make each day brand new.
The poem you choose doesn't have to be religious in focus. You can choose any piece of poetry that honors leadership, guidance or the institution of retirement. This excerpt from a poem by Juanita Farrar called "Varied Visions of Retirement" might fit the bill perfectly.
RETIREMENT: An acquired belief that failure is impossible.
Investments made early-on, makes dividends more profitable.
Beneath it all, the pride of your labors will show.
Like a harvest moon or a brightly colored rainbow.

RETIREMENT: An emotional calmness, filled with tranquility.
Extraordinary comforts - turn dreams into reality...
Holding this thought: Retirement is not a career ending...
New attractions, plus foresight - makes it a career beginning.

RETIREMENT: An intriguingly different lifestyle.
Imagine vividly your ego at peace for a while.
Without sacrifice your future has become a reality.
Custom designed and made valid by your own success.
Read the full piece online at Poem Hunter.
Finally, if your soul feels stirred, remember, you can always write an original piece. If you have a knack for rhyming, consider couplets. If you'd rather explore free verse go ahead and do so. Children can get in on the fun too with simple acrostics. Consider the example below:
Positive and kind
Astute and enlightened
Sweet and patient
Thorough and detailed
Owns his vision
Respects other views

Righteous and humble
Exciting and fun
I'll miss him
Day in and day out
Best of luck with your retirement Pastor Reid, we'll be praying for you!
This is a simple way for children and young teenagers to express their view on pastor retirement. Younger kids can make an art project out of it and older kids can write it in a card.
Pastor Retirement Notes and Cards and Tips
When you boil it down, writing a note or a card is the most basic way to say goodbye, but with a little presentation, it can also be the most meaningful. One fun way to bring the sentiments of a note or card to life is to have parishioners read them aloud at a farewell celebration. It can be a small group like the elders or senior staff, or you can invite the entire congregation to take the microphone during a special potluck or party. No one should feel pressured to share their thoughts in public, but those who would like the opportunity should be given the chance.
Special packaging is also a great gift for a collection of ha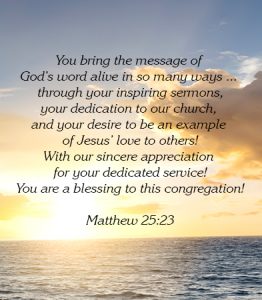 ndwritten notes. A vintage suitcase or hatbox, glass display box or even a silk bag are all great choices for notes from adults.
If the children of the church have been tasked with writing their own notes and poems or have perhaps created artwork, why not let the kids design the vessel to carry it all away? One simple idea is to get a large cardboard box with a detachable lid and cover the whole thing in butcher paper. Once the box is a solid color, kids can decorate the box with stickers, layered tissue paper, paint handprints, even a photo collage. Your retiring pastor won't be able to look at his specially designed keepsake box without a fond smile and happy memory.
Note Writing Tips
If you are just looking to get started on a note and don't know where to begin, here are five simple rules to follow for a heartfelt, well-written message.
1.) Longer isn't better. You don't need to drone on for two full pages to make your message clear. An honest, heartfelt paragraph is always preferable to a rambling treatise.
2.) Draw on specific memories. Remarking on a memorable sermon, revisiting a shared anecdote or sharing a never before heard story is a great way to make a note a heartfelt token.
3.) Borrow from the pros. If you are scratching your head for the perfect way to begin, try a line of scripture or meaningful quotation. It will get you started with flair and set the tone for your note.
4.) Proofread. Check your note for grammar, punctuation, style and flow before you seal it. Some people prefer to type it on the computer and then re-copy it by hand once it is perfect.
5.) Be yourself. Write like you talk; there's no need to put on airs. Your note should sound like you, not some shined up version of yourself you're trying to create.