Bless your loving pastor's wife during this Mother's Day with appropriate Mother's Day poems will be perfect gift idea for her.
Personalized Pastor Appreciation Gift Plaques
Pastor's wife
Her husband has full confidence in her
and lacks nothing of value.
She brings him good, not harm,
all the days of her life.
She is clothed with strength and dignity;
she can laugh at the days to come.
She speaks with wisdom,
and faithful instruction is on her tongue.
She watches over the affairs of her household
and does not eat the bread of idleness.
Her children arise and call her blessed;
her husband also, and he praises her:
"Many women do noble things,
but you surpass them all."
Charm is deceptive, and beauty is fleeting;
but a woman who fears the LORD is to be praised.
Give her the reward she has earned,
and let her works bring her praise at the city gate.
The Pastor's Wife
We often hear of Hero's
on the news at night
how someone went into a fire
to save someone else's life
[Click here to read more]
Mothers Are Special People
Anonymous
Mothers are special people
God knew that from the start
That's why he created them in His own image and to them gave the biggest heart.
She's able to heal our hurts with only a kiss and hug
She's able to cook breakfast, lunch, and dinner and is never slow as a slug.|
Mothers are special people
God knew they'd always be
He created them to do so much that involve you and me.
She has to be a teacher to teach us what we need to know
She has to be a taxi driver to get us where we need to go.
Mothers are special people
God knew His work was complete
When He created someone that could do SOOO much on her own two feet.
She is a Christian on Him she depends
She displays the fruit of the Spirit and a helping hand she is willing to lend.
Mothers are special people
God tells me so each day
For if it weren't for Him I wouldn't be one today
Thanks
Michael A. Faust
I know it's been a hard task
the things we ask of you.
You should know you're very special
for all the things you do.
I'm thankful for a wife like you,
no one could take your place.
A heart like yours for those in need
is a thing one can't replace.
So thanks again for being there
and for all the things you do,
no man could be so lucky
to have a love like you!
Happy Mother's Day!
Let my eyes be massaged by your beauty,
Let my heart be warmed by your smile.
Let my ears always hear that you love me,
Let my lips kiss yours for a while.
Let my arms hold you close when you're sad,
Let my hugs make you warm when you're cold.
Let my love last as long as forever,
That way we will never grow old.
Let me promise you'll never be lonely,
Let me promise to always be true,
Please let me by happy for the rest of my life,
When I ask you, Please say, "I do".
Dedicated to Karen Faust.
Mother's Day Gifts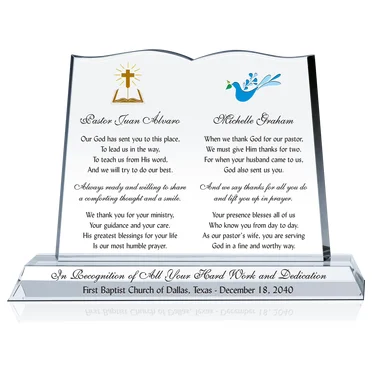 When we thank God for our pastor
We must give Him thanks for two,
For when your husband came to us
God also sent us you.
For all the kindness that you show,
and the love you freely give;