Are you looking for Thanksgiving Day Card for your pastor? Thank you cards also have the power of conveying the appreciation message in a very effective manner. Pastor appreciation card is a personal one. Priests appreciate the though behind every greeting card you send.
Personalized Pastor Appreciation Gift Plaques
What type of appreciation cards should you consider? Whether you wish to create greeting cards, or you'd like a career designing greeting cards appropriate for use by member of the clergy. Personalization is heartwarming and touches minister's lives. It makes the gift last forever. Your priest must be interested in the handprint and footprint cards from your toddlers, teach your children to learn to how to show their appreciation and love to pastor and God is important and meaningful.
People love to receive a Thanksgiving card in the mail and it does make them feel extra special! Having the encouragement of appreciation scripture recognize their contribution, years of service and valued. And different designs of greeting cards have different meanings (include encouragement, appreciation, humor, inspirational and more). So you should think about this if you want to choose appropriate Thanksgiving card to express your gratitude, blessing or pray for your clergy.
Here are three Thanksgiving cards with different design to help you show your three hearts to your pastor:
"Happy Thanksgiving Day"
Cover: Thanksgiving is the perfect day for remembering special people - pastor. Feature with Thanksgiving Day flower, traditional Thanksgiving foods and others and let the Thanksgiving card be filled with deep festival atmosphere.
Inside:
The warm caring people God brings into our lives
The people who bless us in so many ways through the special things they do and say
And that's why you're remembered with thanks today.
You're someone very special
Tag: Happy Thanksgiving
Scripture: Give thanks to the Lord, for He is good. PSALM 136:1 NIV.
Pray for Pastor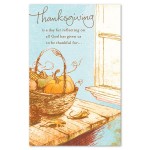 Cover: Pray for You
This Thanksgiving we bow before you, Pastor
With great hearts of praise
Thanking you for loving us and filling all our days with blessings
You have given us throughout the years past for granting us forgiveness and strength of every task
We pray for you
We worship you
Inside: Thanking God today for His goodness and especially for you.
Scripture: I will bow down and will praise your name for Your love and your faithfulness. PSALM 138:2 NIV.
Inspiring Designs
Inspiring Christian greeting cards can use Christian symbols, art, inspirational worlds or Biblical quotes to convey a thought, a sentiment or to share a prayer. Appropriate inspiring Thanksgiving quotes will highlight this card.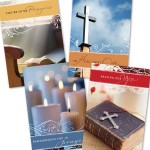 Cover: God Bless You
Inside: From generation to generation, you have encouraged one another in their faith and have passed along this faith to our families and friends.
Scripture: Colossians 4:2-4 Devote yourselves to prayer, keeping alert in it with thanksgiving. At the same time pray for us as well that God will open to us a door for the word, that we may declare the mystery of Christ, for which I am in prison, so that I may reveal it clearly, as I should.