A pastor's anniversary is important because it recognizes years of service, and celebrates the experience, growth and progress of a church under a particular pastor's administration. Our pastors and spiritual leaders need the love, encouragement, and inspiration that comes with these celebrations.
Personalized Pastor Anniversary Gifts
Why Is Our Pastor's Anniversary So Important?
Jeremiah 3:15 says: "And I will give you shepherds after my own heart, who will feed you with knowledge and understanding."
God chose priests to watch over us and protect us from all danger, naturally and spiritually. God anointed them with power to come against anything that may hinder our walk with Him (Our Creator). Sheep are known to respond to the voice of their shepherd. They understand that the shepherd will never bring them harm and that the provided guidance keeps them safe and moving forward to new pastures. There is not much thanks that a sheep can give besides gathering close to their shepherd.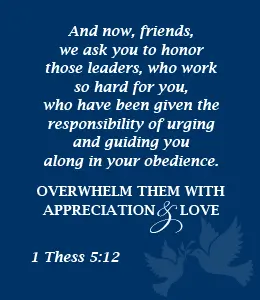 Thessalonians 5: 12 – 13 says: "And now, friends, we ask you to honor those leaders, who work so hard for you, who have been given the responsibility of urging and guiding you along in your obedience. Overwhelm them with appreciation and love"
Pastors are ordinary human beings, with limited energy, time, and strength. They also need time for rest & recreation, they have down days and dry times in their faith walk, just as you and I do. Discouragement can come when a pastor faces unrealistic expectations or verbal discouragement from the very people he is serving.
Anniversary Scriptures That Encourage Us to Show Pastors Appreciation
Timothy 5:17 Let the elders who rule well be considered worthy of double honor, especially those who labor in preaching and teaching.
Thessalonians 5:12-13 But we appeal to you, brothers and sisters, to respect those who labor among you, and have charge of you in the Lord and admonish you; esteem them very highly in love because of their work. Be at peace among yourselves.
Hebrews 13:17 Obey your leaders and submit to them, for they are keeping watch over your souls, as those who will have to give an account. Let them do this with joy and not with groaning, for that would be of no advantage to you.
Corinthians 9:14 In the same way, the Lord commanded that those who proclaim the gospel should get their living by the gospel.
Anniversary Scriptures That Indicate How to Show Pastor Appreciation
Hebrews 13:7 Remember your leaders, those who spoke the word of God to you; consider the outcome of their way of life, and imitate their faith.
Pastors are some of the most wonderful people on the planet. They give of themselves sacrificially often asking nothing in return. They point us to God. Pastors pray with us about our needs. Pastors counsel us through our life's challenges and fears. So they are our model and we imitate him.
Colossians 4:2-4 Devote yourselves to prayer, keeping alert in it with thanksgiving. At the same time pray for us as well that God will open to us a door for the word, that we may declare the mystery of Christ, for which I am in prison, so that I may reveal it clearly, as I should.
Your pastor or priest has those same pressures and bad days from time to time. Due to the nature of the job, he may have more of them than the average person. But unlike the rest of us, he often doesn't have the luxury of a sounding board. Our clergy are people just like us - they have strengths, and they have weaknesses. They get tired. They get frustrated. They also need recognition and prayer, so let's pray for them.
John 13:34-35 A new commandment I give to you, that you love one another: just as I have loved you, you also are to love one another. By this all people will know that you are my disciples, if you have love for one another.
The best way to recognize and appreciate pastor's service is that love one another just as our pastor loved us. Pastors point us to God, pray with us about our needs, and consistently deliver sermons to uplift our souls. And now we know the love, we know we should love one another, we should help someone who needs our help; these mean that pastor's work is valued and powerful.